*Some soldering will be required if you wish to use the aircraft connector.
The hotend itself has 1 fan that is always on, a thermistor, and a heater cartridge. that is 6 wires. The layer cooling fans add an additional 2 wires bringing the count to 8 total.
---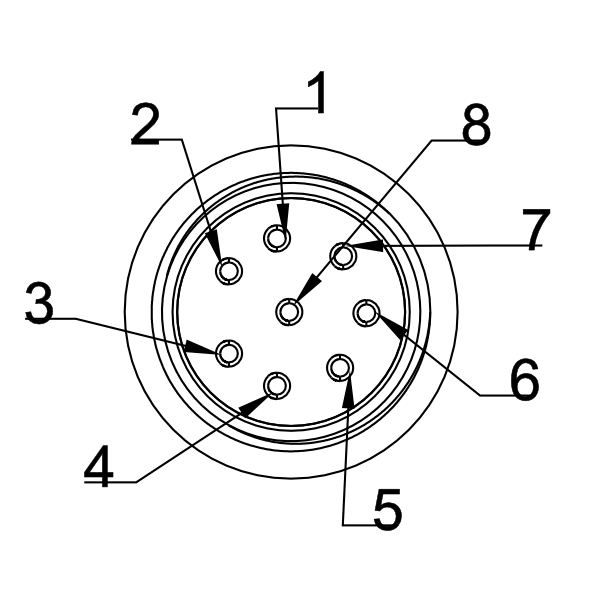 Pinout:
Pin 5
Hotend Fan Positive (12v)
Pin 6
Hotend Fan Negative (Ground)
Pin 7
Layer Cooling Fans Positive (12v)
Pin 8
Layer Cooling Fans Negative (Ground)
Looking at the connector from the bottom we can see all 8 pins.
Pins 1 and 2 will go to the hotend's heater cartridge.

Since a heater cartridge is just a resistor it does not matter which wire goes to which pin here.

Pins 3 and 4 will go to the hotend's thermistor

Again a thermistor is a resistor (that changes resistance with temperature) so it does not matter which wire goes to which pin.

Pins 5 and 6 will go to the hotend's fan.

This does matter for polarity so make pin 5 positive(12v) and pin 6 negative(ground)

Pins 7 and 8 will go to the layer cooling fans.

Again polarity matters here so make positive(12v) go to pin 7 and negative(ground) go to pin 8